ORANGE COUNTY, Calif.

,

March 30, 2022

/PRNewswire/

Coastline College hosted the 14th Annual Western Regional Collegiate Cybersecurity Defense Competition (WRCCDC) this past weekend. The competition revolved around the maintenance of a corporate network and its customers' applications. This year's winner was a team from Stanford University, coached by Mr. Alex Keller and Led by Ph.D. Student, Miss Andea Scott. They will advance to the National Championship to be held at the University of Texas at San Antonio (UTSA) on April 23rd & 24th, 2022.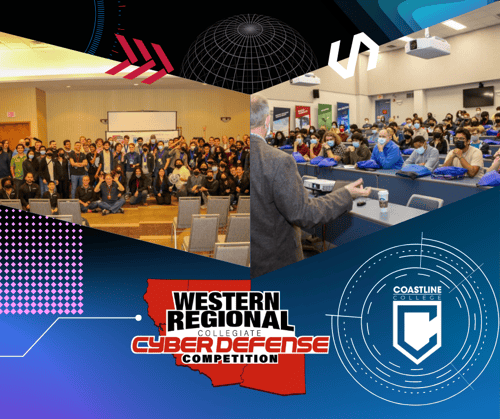 The runners-up were a team from the Computer Science Department of the University of California at Irvine (UCI) coached by Dr. Alfred Chen and captained by Mr. Jordan Whiting. This team will compete for one last spot at the National Championship in a virtual competition held by UTSA on April 6th.
The third-place team was from Arizona State University in Tempe AZ. This team was coached by Dr. Ankur Chowdhary and captained by Miss Leilani Sears.
The Platinum Sponsor this year for WRCCDC was Battelle. Battelle is the largest independent nonprofit organization that advances science and technology to have the greatest impact on our society and economy. As part of this work, they have a dedicated cyber team that provides solutions to strengthen our nation. For this year's competition, industry-leading cyber experts from Battelle attended WRCCDC and supported the competitors as they worked their way through regionals.
During the awards ceremony on Sunday, Keynote Speaker, Dr. Doug Thornton from Battelle, spoke about the challenges facing today's cyber defenders and the importance of team-building exercises such as WRCCDC, and the need for "outside the box" thinking in facing those challenges. As a Technical Director in Battelle's National Security, Dr. Thornton conveyed how his own passions outside of cyber influenced his thinking and approach to the difficulties faced by the challenges of cyber, application, and network security teams.
Battelle operates in a fast-paced environment to figure out the world's most difficult scientific challenges, including cybersecurity. As they support a diverse set of commercial and government clients, their partners trust them to provide independent and advanced solutions transforming our world for the better. To learn more about Battelle, visit: https://www.battelle.org/markets/national-security/cyber
The other Western Regional Collegiate Cybersecurity Defense Competition's sponsors included:
VMWare Carbon Black – Gold sponsor
Coastline College - Gold sponsor
Raytheon Technologies
Blackberry
CrowdStrike
Helpsystems
ISACA (Los Angeles chapter)
Palo Alto Networks
ServiceNow
The WRCCDC competition brings together the best and the brightest students in cybersecurity by providing a unique venue in which students can apply the principles and skills they have learned in their coursework. The teams face challenges analogous to real-world situations together with simulated cyberattacks against "hypothetical commercial" business networks infrastructure. The competition tests these students' depth of understanding and operational competency in managing the challenges inherent in protecting today's corporate network infrastructure and business information systems.
Coastline College is very proud to coordinate this competition and congratulates the 2022 Western Regional CCDC winners. Coastline College has received numerous accolades over the years including the National Center of Academic Excellence in Cyber Defense Education (CAE2Y) by the National Security Agency (NSA) and the Department of Homeland Security (DHS).
For more information, please email Dr. Brandon Brown, Computer Service Technology and Computer Information Systems, Coastline College, at bbrown118@coastline.edu.
About Coastline College:
Coastline College is accredited by the Western Association of Schools and Colleges. For eight consecutive years, Coastline College was selected as one of the top 150 colleges by The Aspen Institute for Community College Excellence which is considered the most prestigious designation for community colleges. Coastline delivers flexible courses and services that cultivate and guide diverse student populations across the globe to complete pathways leading to the attainment of associate degrees, certificates, career readiness, and transfer to four-year colleges/universities. Coastline currently offers more than 250 online and other distance education courses.
CONTACT:
Dawn Willson
dwillson1@coastline.edu
714-241-6186
SOURCE Coastline College
Related Links