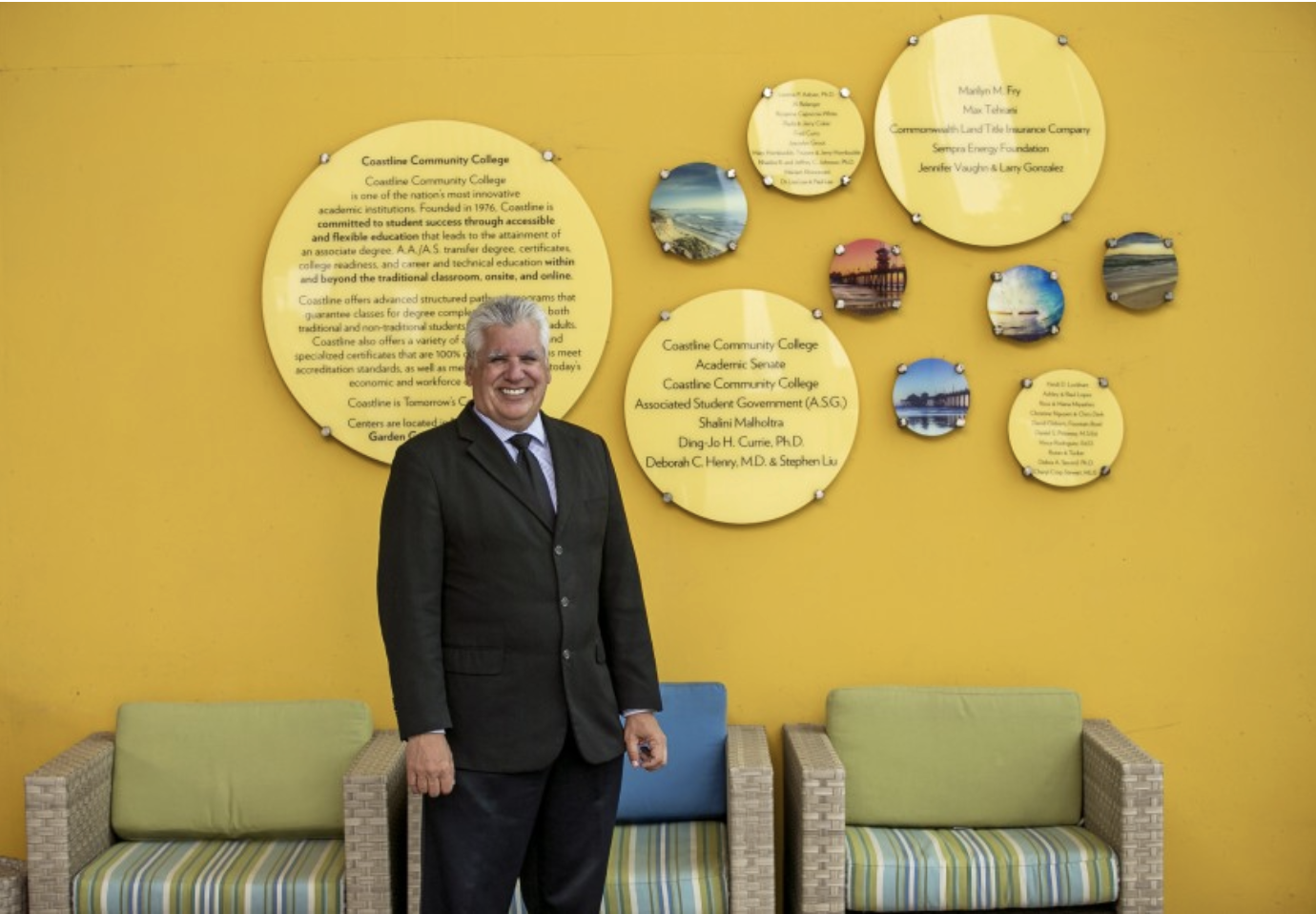 Dr. Vince Rodriguez has been named the next president of Coastline College by the Coast Community College District Board of Trustees. (Scott Smeltzer / Staff Photographer)
It was 1998 when Vince Rodriguez stepped into Orange Coast College's main office to order some transcripts. He planned on going back to finish his associate's degree after having spent a few years working and managing the Fountain Bowl on Brookhurst Street.
But while visiting the office he saw a job listing for a testing specialist at Coastline College and decided to apply.
Rodriguez has been with Coastline College since, but has held a number of positions, from being an instructional operations specialist to his latest position as the vice president of instruction for the online and three satellite campuses in Westminster, Garden Grove and Newport Beach. As of last Thursday, Rodriguez has another new role to add to his extensive resume with the college.
He's now Coastline's president, succeeding current president Loretta Adrian, who will be retiring this July.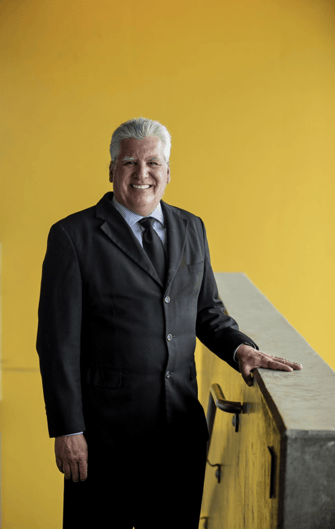 "I am honored to follow President Adrian in this position of trust and responsibility in advancing the future of a welcoming college for all members of our communities," said Rodriguez in a statement released by the Coast Community College District.
"Coastline College embraces its dual mission of access and innovation, while we prepare for new and exciting approaches for serving students," he added.
In a recent interview, Rodriguez said he felt his perspective from having worked in classified, faculty and administrative roles will help inform his presidency at Coastline. He added that he also worked at the school while he'd been finishing his degrees, which also adds the layered understanding of what it means to be a working adult.
"Dr. Rodriguez speaks from knowledge and experience about a shared vision for the next step in Coastline College's evolution," said Coast District Board of Trustees President Jim Moreno in a statement. "He knows and cares for the faculty and staff who have worked with him these many years and for the many students supported along the way."
Rodriguez said he was born and raised in Orange and has lived in Orange County nearly all his life. He earned his bachelor's and master's degrees at the University of Phoenix in Tempe, Ariz. and his doctorate of educational leadership at Cal State Long Beach.
In his free time, he volunteers for the American Youth Soccer Organization and served as a referee for the Daily Pilot Cup tournament.
"I've been in my current role for nine years now as the vice president of instruction, serving very closely to the president of our college," said Rodriguez, of his motivation to apply. "That's given me a lot of insight into the role, what the president does on a daily basis and I had a lot of confidence that I could work in that role and do well."
He said he was also influenced by discussions of racism and race last year, particularly in academia, as a Mexican American himself.
"For me, it fostered this desire to do more for our students of color," said Rodriguez. "Our Black students, our Mexican students, there's a lot they've had to overcome. I need to do more to help our students of color and 'how can we do more to improve our overall outcomes in our service area?' What can I do about that?"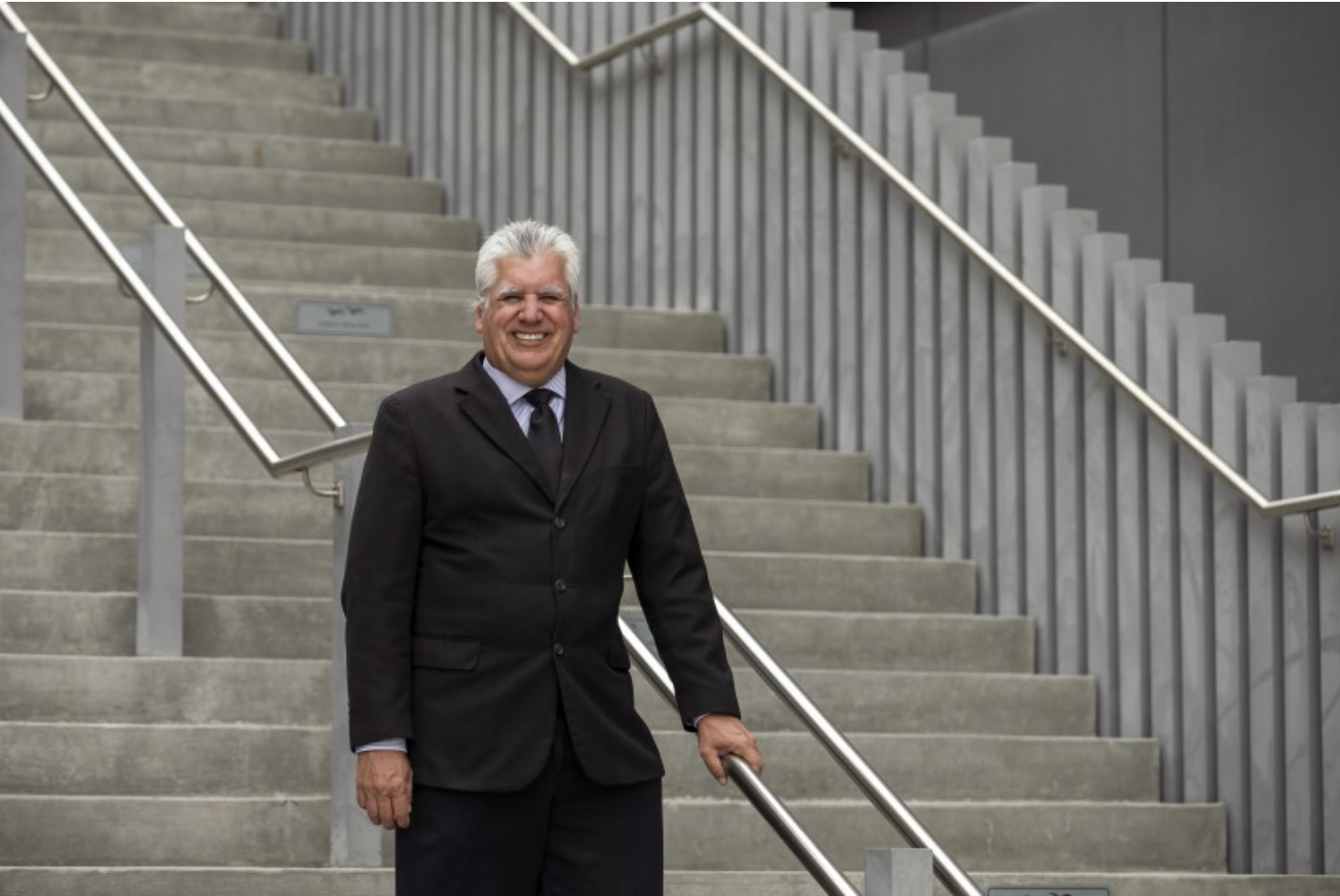 Dr. Vince Rodriguez has been named the next president of Coastline College by the Coast Community College District Board of Trustees.
(Scott Smeltzer / Staff Photographer)
"When I learned more about my own history, it really lit a fire in me. 'How can I do better for future generations?' And I thought the best way I could do that was be a leader, a president, by affecting the curriculum that we have and bettering the experience for our students and especially at a Hispanic-serving institution," he said.
He looks forward to working on ethnic studies curriculum for the college in coordination with other California state universities and community colleges and said he plans to work with faculty and staff to develop greater flexibility in classes for students that will allow them to be "on-demand" for the pace they study.
Rodriguez said that past presidents have mentored him and provided opportunities for his growth into his current role. He also thanked Adrian for her guidance in the last few years.
"I don't know [if] I would have the confidence without all the support from her letting us grow as administrators," he said.
Contribution from Daily Pilot. Link to original article.