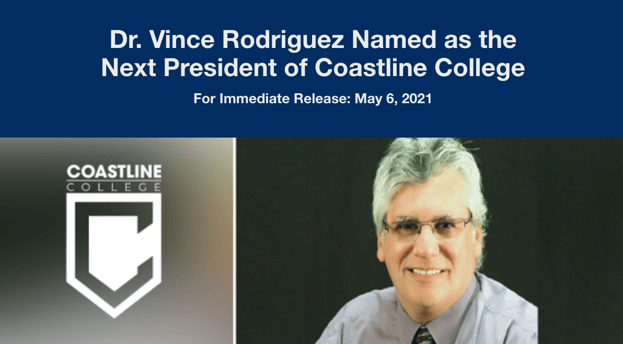 Dr. Vince Rodriguez has been named the next president of Coastline College by the Coast Community College District Board of Trustees. Rodriguez will succeed the retiring president, Dr. Lorretta Adrian, on July 1, 2021.
"I am honored to follow President Adrian in this position of trust and responsibility in advancing the future of a welcoming college for all members of our communities," Rodriguez said. "Coastline College embraces its dual mission of access and innovation, while we prepare for new and exciting approaches for serving students."
Rodriguez served in the leadership of Coastline College for 23 years, beginning as the lead staff member in the distance learning department and working his way to the role of vice president for instruction. This put Rodriguez in a prime position to influence many of the policy decisions that will become his responsibility as president.
"Dr. Rodriguez speaks from knowledge and experience about a shared vision for the next step in Coastline College's evolution," said Coast District Board of Trustees President Jim Moreno. "He knows and cares for the faculty and staff who have worked with him these many years and for the many students supported along the way."
Rodriguez grew up in Orange, California, and has been a resident in the Coast Community College District for over 30 years. He graduated from Orange Coast College with an associate's degree and went on to earn a bachelor's in information technology and a master's in education. In 2011, he earned his doctorate in educational leadership from California State University, Long Beach.
"Dr. Rodriguez is a champion of community colleges to his very core," said Coast District Chancellor John Weispfenning. "He has long brought his passion and insight into the work of Coastline College, and he will continue as a valued leader for the college, the district, and beyond."
Thinking beyond traditional offerings, Coastline College delivers flexible courses and services that cultivate and guide diverse student populations across the globe to attain career readiness through associate's degrees and certificates, alongside preparation for transfer to complete bachelor's degrees.
Coastline College is a recognized leader in the design, development, and use of innovative technology-based teaching and learning practices, processes, and systems for anytime-anywhere learning to achieve and sustain student success.
CONTACT: Dawn Willson

Director of Marketing and Communications
714.241.6186 | dwillson1@coastline.edu
ABOUT THE COAST COMMUNITY COLLEGE DISTRICT
The Coast Community College District is located in Orange County and is among the largest districts in the United States. The District's three colleges – Coastline College, Golden West College, and Orange Coast College – provide traditional degree and transfer opportunities, career and technical training, basic skills, English as a Second Language, and other community programs. Thanks to the Measure M community bond funding approved by voters in 2012, the Coast Colleges are in the midst of a $698 million revitalization of educational and student support infrastructure.