ORANGE COUNTY, Calif.

,

May 2, 2022

/PRNewswire/

Coastline College's Veterans Resource Center recently caught the attention of U.S. Congresswoman Michelle Steel who has been serving as the U.S. representative for California's 48th congressional district since 2021. A member of the Republican Party, she concurrently serves as a member of House Minority Whip for the 117th Congress and spent some quality time on May 2nd with veteran students who call the Coastline center home.

The students and the Veterans Resource Center (VRC) Director, Tom Boscamp, a veteran himself, could not say enough good things about the myriad of services the center provides. In addition to assisting them with their VA education benefits, the center also provides transition support and connection to local community veteran resources. The Veterans Resource Center provides Coastline students and community Veterans with an informative and supportive environment so that they may explore the comprehensive array of resources available to them, including personal assistance, educational guidance, and professional resource support services.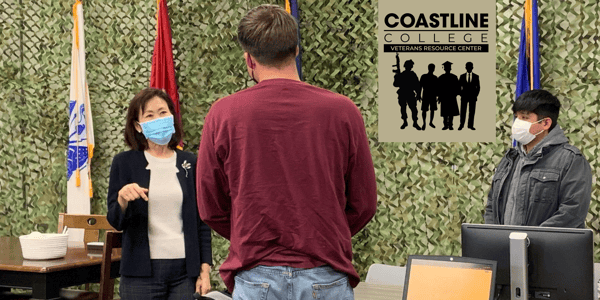 "This is seriously their one-stop-shop," said Boscamp. "They come here and ask questions about things like buying books and military-related things like disability and education. This place is dedicated to supporting them no matter what."
A marine veteran who will be graduating from Coastline this spring has also been helped tremendously by the Veterans Resource Center.
"They have helped me with counseling and school and life," he said. "It's a community that supports each other."
The word "community" is a common phrase used when describing the center.
"The Veterans Resource Center community itself is huge," Boscamp said, "As a veteran, it's hard to connect with other people, so being around like-minded individuals, people who have gone through the same things and understand the same things, has helped me out a lot."
Coastline's VRCs provide a comfortable and positive environment where veterans find access to academic resources, community referrals, networking opportunities, counseling and advisement services, computer access with Wi-Fi, a place to study, and workshops of value to veterans.
In fact, if the VRC had not been there to help students navigate the enrollment process, some probably would not have received their associate degrees.
"It really expands your employment opportunities," Boscamp said, adding that students go on to get their master's degrees and PhDs.
"I did my degree mostly on a plane because I travel a lot for a living," Steel said to one of the student vets graduating.
The Veterans Resource Center, which held its grand opening and ribbon-cutting ceremony for the college's 3rd Veterans Resource Center on Monday, August 19th, 2019, can answer just about any question a veteran student has and point him or her in the right direction.
"Bringing more resources out to the Garden Grove campus has been very beneficial," Boscamp, Veteran's Resource Center Director, said. "Coastline College has been serving the active-duty service members and veterans for more than 40 years."
Coastline is committed to honoring veterans for their service and to fully assisting them with an effective transition and reintegration into civilian life. Coastline College is accredited by the Western Association of Schools and Colleges. For eight consecutive years, Coastline College has been selected as one of the top 150 colleges by The Aspen Institute for Community College Excellence which is considered the most prestigious designation for community colleges. Coastline delivers flexible courses and services that cultivate and guide diverse student populations across the globe to complete pathways leading to the attainment of associate degrees, certificates, career readiness, and transfer to four-year colleges/universities.
For more information, contact the VRC at (714) 241-6126 or https://www.coastline.edu/student-life/student-services/veterans-resource-centers.
CONTACT:
Dawn Willson
dwillson1@coastline.edu
714-241-6186
SOURCE Coastline College
Related Links